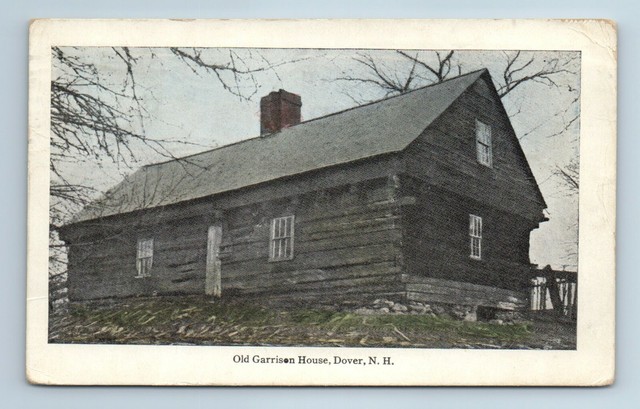 My earliest American ancestors arrived in 1633 at Dover Point. Imagine yourself going out into several hundred acres of pine trees with nary a house, let alone a village. The first order of business would have been to erect a log meeting house similar to the one pictured above on its original site. Here the settlers made their home while clearing the timber and rocky fields for a village of log houses and the beginnings of an agrarian society.
A garrison house would be enclosed within a large yard surrounded by a high stockade of logs planted upright into the ground. This particular garrison — built by my ancestor Deacon John Damm, is 40 feet long and 20 feet wide, with walls six inches thick, hewn out of oak. Judging from the architecture of the windows, I think they were added later. Not visible in the photo are musket slots as the garrisons were fortified against Indian attack. However, in those early decades, the number of English settlers were too small to pose a threat to the native people.
The men were well educated and skilled in the various trades that prevailed in their old homes. Other than clergy and a few lawyers, the settlers were farmers. They learned from the Indians how to "fish the fields" by laying down perch, alewife, smelt and eel to fertilize and replenish the land every three years. Rye, buckwheat, barley and Indian corn were raised along with turnips, beans, pumpkins and peas. However, the geography limited farms to single family production. Many New Englanders ultimately became renowned fishermen, shipbuilders, merchants and sailors celebrated in later American literature.
Women's work in the household was made difficult and exhausting in these primitive colonial conditions. In addition to bearing children, cleaning, and cooking, the goodwife made clothing, gave comfort, and administered aid to family illnesses. They made household goods to use and sell, took care of their animals, maintained the fire and tended to the kitchen gardens — too busy to be affected by the modern concept of cabin fever.
Not until King William's War (1689-1697) did the native Algonquians of New Hampshire attack settlements in Dover and Oyster River (later renamed Durham). They burnt log houses, killed more than 20 settlers in each uprising (including my ancestor Deacon John Damm in 1690), and dragged many others away as captives. In retaliation, the settlers became just as vicious: they burnt native crops and villages and offered bounties on scalps. Eventually, the native populations left the area.
Now housed within the Woodmen of the World museum in Dover, New Hampshire, "this well preserved structure provides a unique window to our past and displays a collection of over 800 items which illustrate area history. Notable among the many utensils, furniture and tools are iron fireplace cooking utensils, a tavern table, several cradles—including a rare cradle for twins, rope beds and looms" [https://woodmanmuseum.org/about-us/damm-garrison].