Good morning, gardening daughters and friends! Today I'd like to join you all with my own "Six on Saturday" snapshots, but I'll have to rely on stock photos from Google as I've yet to learn how to scan my photographs into the computer.
Someone created the Six on Saturday series to showcase six plants/things/happenings you find in your garden on a Saturday. Here in central Washington state, most if not all the snow has melted into the ground. Blessedly, this year's melt down was not rapid but gentle, following along with a gradual rise in temperature to the 60's when the sun was out.
Crocuses greet me every morning along my front entry, seemingly grateful that I cleaned up their bed.
Soon the edging of grape hyacinths will join them. It shouldn't be long, now.
Tulips are poking their leaf tips above the soil. By April, they'll begin to steal the show.
Peonies are just sprouting, too. Mine looked like this before I cleaned out the bed and pulled out the spent stalks from last summer. I've already set round grill supports in place. The stems will grow through the square holes on the top of the ring and support heavy blooms.
Did I mention narcissus? They're not up yet. Nor are the woodland violets I transplanted years ago. The Russian sage bush remains year round like this before pruning. I've already pruned mine back to a mound.
One empty garden urn stands ready with debris cleaned out, including last year's dried up geraniums. I'd like to replace the urn with something like this for a better accent at that end of the front bed and, perhaps, not plant anything in it at all, as I've seen on garden tours.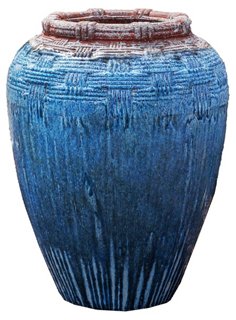 All that in my front entry garden bed alongside the front porch! Still waiting for attention are a pair of pottery urns flanking my white Luytens bench under the front window on the porch. I "planted" tall birch twigs for an early spring effect until I can find primroses in the markets.
And that's my first "Six on Saturday" contribution!