Yesterday's post by fellow blogger VIRGINIA WILDFLOWERS (https://virginiawildflowers.org/2019/08/15/brown-eyed-susans/) got me thinking about the black-eyed Susans my mother once grew on our place in Pensacola, in the Florida Panhandle. Most Southern home gardeners did include them in their summer cut-flower beds.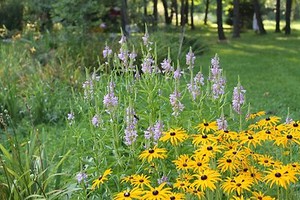 But what's the difference between "black" and "brown" eyes? Actually, nothing that I can see. These simply are two of the varieties of common names for Rudbeckia hirta. Other names include Brown Betty (no, not the Colonial baked pudding!), gloriosa daisy, golden Jerusalam, English bull's eye, poor-land daisy (probably because they can grow wild along road sides), yellow daisy, and yellow ox-eye daisy.
Rudbeckia hirta is a North American flower plant in the sunflower family. It's native to Eastern and Central North America, but has been naturalized in the western part of the continent. That includes all ten Canadian provinces, as well.
This is a Brown Betty . . .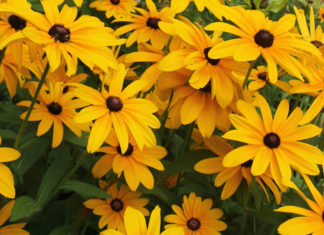 . . . and this is a golden Jerusalem with a purple crown.
The English bull's eye just looks like another common brown-eyed Susan . . .
. . . and the poor-land daisy . . .
. . . but the Rebecca daisy looks like spilt cappuccino at the center of its petaled skirt.
The little wild ox-eye daisy I wrote about in a previous post add a fairy garden charm to unmown lawns and meadows, all on their own.  These are yellow ox-eye daisies.
And this is a field of noxious weeds in Washington state. I find it rather charming.
Don't you?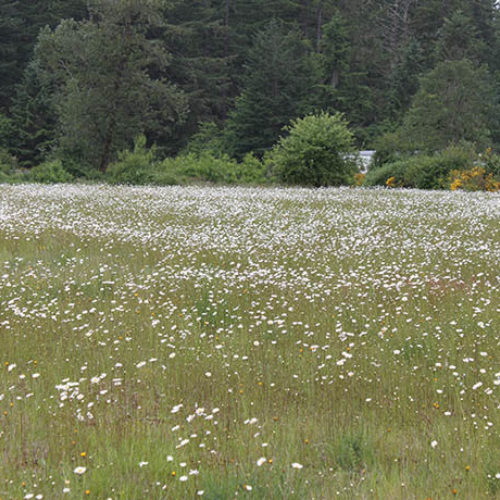 Ten years ago, the state of Maryland designated the black-eye Susan as its state flower, used in gardens as well as in public ceremonies to celebrate, memorialize the state and its people. "The Run for the Black-Eyed Susans" is the term for the Preakness Stakes in Baltimore; that's because a traditional blanket of Viking Poms resembling black-eyed  Susans is placed around the winning horse's neck.
In 1912, the black-eye Susan inspired the school colors of black and gold for the University of Southern Mississippi. A  member of the first graduating class, Florence Burrow Pope, suggested the colors after a trip home through pine forests with masses of black-eyed Susans. Quite an honor for the "lowly" little Black-eyed Susan.