This week I was all set to take ourselves off to a tour of a somewhat smaller garden than we've been visiting before I realized I may have to gut this story.
Only a bit over four acres enclose the Enid A. Haupt Garden at the iconic Smithsonian Castle, Washington, D.C. Designed to be a modern representation of American Victorian gardens of the latter half of the nineteenth century, it opened in May 1987. It is named for the American philanthropist and patron of the arts and humanities (b. 1906 d. 2005). She supported not only horticulture but also architectural and historical preservation.
In its prime, the garden's center features a parterre flanked by Moongate Garden on the west and the Fountain Garden on the  east. Measuring 144 feet by 66 feet, the parterre was designed as a series of diamonds, fluers-de-lis, scallops and swags filled with low-growing plants changed twice yearly. Granted, quite a bit of back bending work for only a couple of grounds keepers.
Saucer and tulip magnolias edge brick walks surrounding the parterre, and cast-iron garden furnishings and fountains coordinate with the front carriage gates.
The Moongate Garden entrance features this rather playful stone gate.  Let's see whether we're long enough to sit on one edge and stretch legs over to the opposite edge.
Nearby is a pool garden with paths and bridges, like a piece of art.
Fluffy pink and mauve saucer magnolias in mid-to-late spring soften the castle's brick angular edges.
Urns overflowing with dracaena and summer annuals stand on tall pedestals alongside the parterre's scalloped swag edging.
How long the Haupt Gardens continue into the new year (2019) remains to be seen, however. I only this week learned that the Smithsonian Institution has been planning, since at least 2016, to redevelop this area in order to increase its visibility from the Washington Mall, as well as to connect buildings and other gardens.
But why demolish the Haupt garden?
It's that parterre, proponents of the plan insist. The garden as is demands too much work and constant care. "It isn't worth it," according to a Washington Post story last winter (February 16, 2018). Besides, the parterre is out of touch with modern horticultural ideas of more naturalistic design.
On the other hand, the parterre and its landscape elements have become such a part of the Smithsonian's historic continuum that gutting it would leave a mighty big hole. And not just in the ground but also in people's imaginations and memories.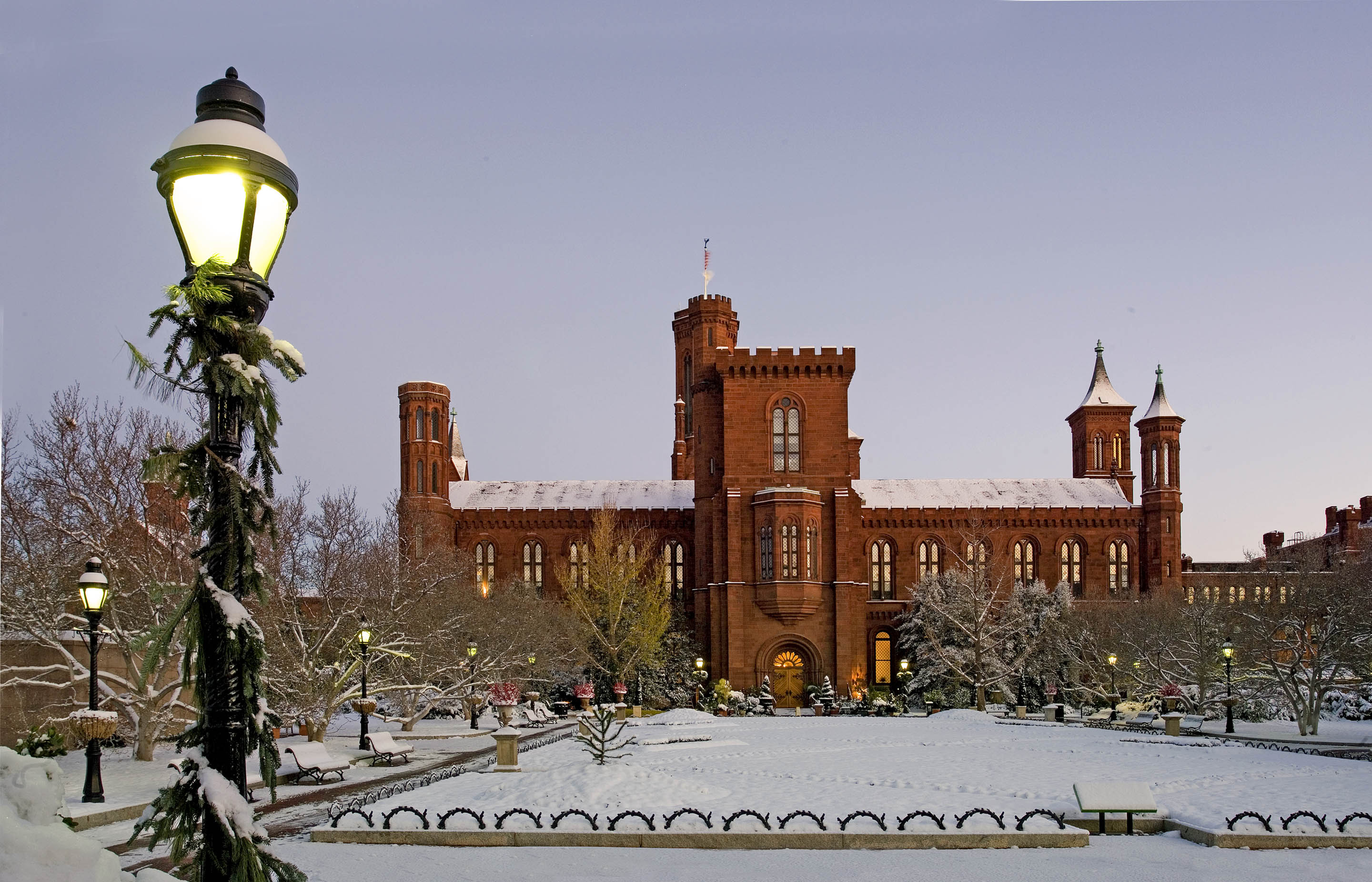 Moreover, this cultural landscape has become a sacred space for many people, visitors as well as those living and working in the D.C. area.
I can't help but wonder: What would Enid A. Haupt herself would think?
What do you think?
Tour of the Enid A. Haupt Garden at the Smithsonian Castle
Wednesdays at 10 a.m. May 16 through September 26 
Meet a Smithsonian Gardens' docent by the tour sign near the entrance to the Smithsonian Castle in the Enid A. Haupt Garden for a tour of the garden's history and design.
~~~~~~~~
A blessed and holy and merry Christmas week to all my readers on WordPress and beyond!
~ Jo Shafer