Outside my window snowdrifts
lean against brown wood fences
and cover bare birch branches
like frosted whipped cream
pretty to look at but not to eat.
Where are all the chickadees
after starlings stole the berries
and the birch seed pods
in yesterday's damp fog
given way to all this snow
now that Christmas is gone?
This is part of a poem I wrote one January day several years ago. I was home with the flu after a week with my sister in her beach cottage on Alligator Point. The ambiance of a quiet winter beach in the Florida Panhandle is nothing like Palm Beach high living. Its simplicity inspired me to write a number of poems that winter which later I gathered into a chapbook, rather aptly titled Winter Musings.
The setting of "Of Bugs and Berries" is far away from salty beach air, home alone, my sinuses snuffed up by a virus bug. That day, I stood at my bedroom window, facing a row of what I called our berry bushes — four ornamental cherry trees (one of a species of flowering prunus). This particular species produces prolific red berries in late fall. Wild birds love to snack on the berries when they flock down from the Cascade mountains west of us in Central Washington state. Here, a chickadee perches on a cherry branch.
That particular day, however, I was startled by a swarm of starlings that swept through the branches and grabbed every single last berry.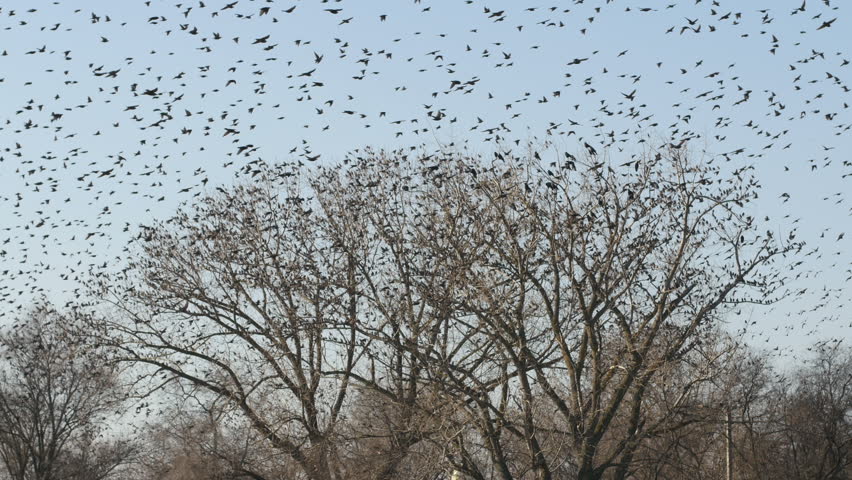 I banged on the window glass. I yelled. I threatened to call the police.
They paid me no attention but swooshed away as quickly as they had appeared, leaving  nothing behind for the chickadees and juncos, only a mock snowfall that melted in a matter of hours. I never saw them again.
The European Starling (Sturnus vulgaris) was introduced to New York in the late 1800s. Today they can be found almost anywhere in North America.  Their song is emitted as a disjointed mushy, gurgling hissing chatter with a high-pitched sliding whistle. What I heard through my window glass was simply a mid-pitched sort of growl that ended in a wrrsh sound.
According to the Audubon Society, no bird "has been more destructive to native wildlife as the European Starling. They push out native cavity nesters like bluebirds, owls, and woodpeckers. Large flocks can damage crops, and their waste can spread invasive seeds and transmit disease." No wonder we don't like starlings!
On the other hand, a murmuration of starlings wheeling and darting through the sky in tight, fluid formations can produce quite a visual show.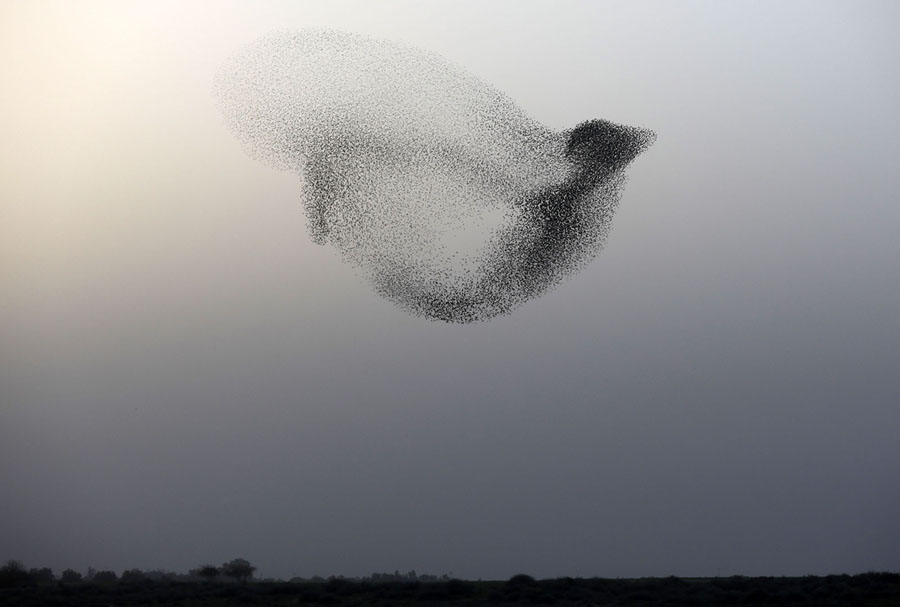 NEXT WEEK: Winter Birds in My Garden