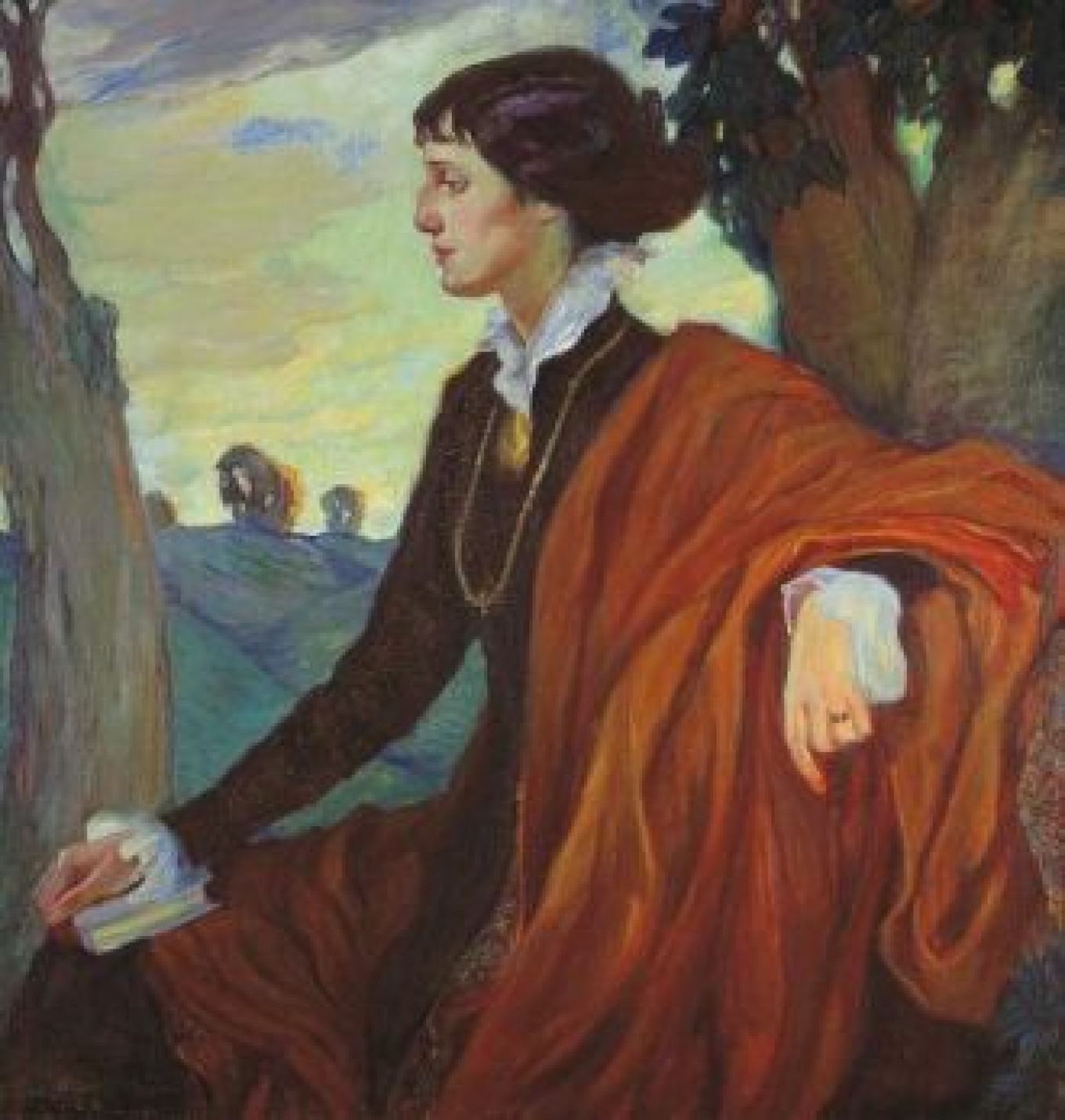 Threaded among the pages of Janet Fitch's epic novel, The Revolution of Marina M., we can glimpse Russian poet Anna Akhmatova (1889-1966). She sits at a corner table with her signature shawl draped around elegant shoulders. The Stray Dog is St. Petersburg's epicenter of bohemian life where the artistic elite gather to enjoy music, poetry readings, occasionally an improvised ballet. A painted pattern of flowers and birds cover the walls of the cellar.
"Yes, I loved them, those gatherings late at night,–
the small table, glasses with frosted sides,
fragrant vapor rising from black coffee,
the fireplace, red with powerful winter heat,
the biting gaiety of a literary joke,
and the first helpless and frightening glance of my love."
Only recently did I discover the poetry of Anna Akhmatova (Akh'mat'ova). I enjoy reading her sensuous lyrics of earlier images featuring a belief in divine inspiration and emphasizing mysticism and religious philosophy, the hallmark of Symbolist poetry. Gradually, however, the trend shifted toward Acmeism to emphasis the material world. The poet was no long prophet but craftsman, probably not a bad thing in itself but lacking any music.
". . . and the red shoots of the grapevine,
and waterfalls in the park,
and two large dragonflies
on the rusty iron fencepost."
Akhmatova transformed autobiographical material through a series of masks and mystification. She poses as an ordinary housewife, limited to home and children, married to a husband who preferred faraway, exotic lands away from the hearth.
"He loved three things in life:
Evensong, white peacocks
And old maps of America.
He hated it when children cried,
. . . . . And I was his wife."
When Germany declared war on Russia, she tried to purge her personal memory of amorous adventures in her new civic role, writing poems of patriotic sentiment and historical memory.
"Like a burden henceforth unnecessary, / the shadows of passion and songs vanished from my memory."
Yet she never considered emigration a viable option, at least not for her when many of her close friends were fleeing to Finland or to Paris or London. She created a stylized image of a romantic land of forests and lakes—an image forever maimed by war and revolution, both WWI and WWII.
"You are an apostate: for a green island
you give away your native land,
our songs and our icons
and the pine trees over the quiet lake.
. . . .
You might as well be sacrilegious and swagger,
finish off your orthodox soul,
stay where you are in the royal capital
and begin to love your freedom in earnest."
Even so, her decision to stay home in Russia, in her beloved city of Petrograd, involved tremendous personal suffering through the Bolshevik and later Stalinist eras. She lamented the culture of Russia's past as well as the departure of her friends and personal loss of love and happiness. Critics referred to her as a relic of the past and, thus, an anachronism in the modern Russia of Lenin and Stalin.
"No one wants to help us
Because we stayed home,
Because, loving our city
And not winged freedom,
We preserved for ourselves
Its palaces, its fire and water."
For most of those who stayed behind, the Soviet way of living lacked space and privacy. Mansions of former aristocrats were divided and subdivided into apartments for the "people." Assigned to one such room in the Sheremet'ev Palace, Akhmatova didn't mind 
communal living; somehow, she managed to retain her sense of regal persona in a cramped, unkempt furnished room. She would sit straight and majestic in a corner of a tattered divan. Between 1935 and 1940, she composed her long narrative, Rekviem, whispered line by line to her closest friends who committed the lines to memory. If the secret police had discovered this narrative, they would have unleashed another wave of arrests for subversive activities—a secret life of repression most of us today can only imagine.
"They led you away at dawn, / I followed you like a mourner . . ."
Anna Andreevna Akhmatova died on March 5, 1966, after a heart attack. Only in the late 1980s did she achieve full recognition in Russia, and her previously unpublishable works became accessible to the general public. Her communal apartment is now the Anna Akhmatova Museum.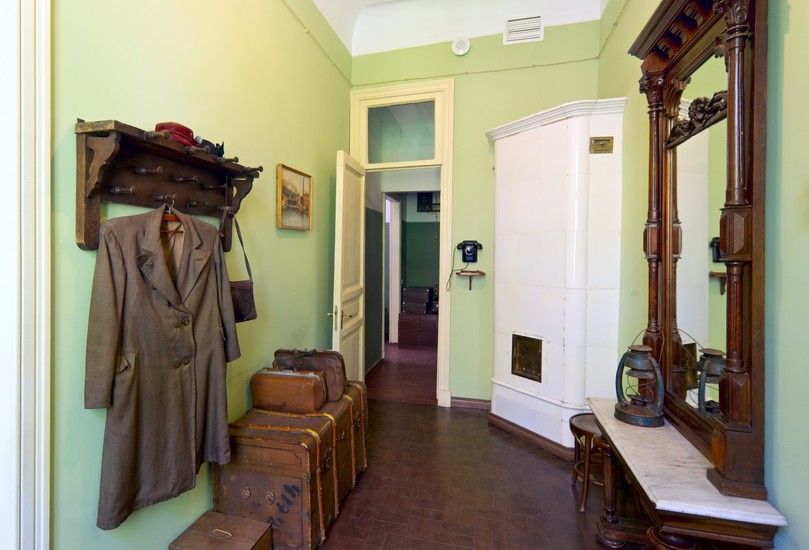 The poet in later life, still beautiful, still regal . . .