All week I have been sitting out on my front porch bench, soaking up all the serotonin I can get before the next wave of winter drearies hit. February has surprised me with almost a surfeit of bright sunny days. Today there is not a cloud in the sky. Heard that one before? Uh-huh. Then along comes a spell of sub-freezing overcast greys.
This week's SOS will focus on front porch benches. Mine is a traditional English Luytens bench, as pictured here in a flower bed. Originally, it was designed by English architect Sir Edwin Lanseer Lutyens (1864-1944). Cousin to the Chippendale bench, it features rolled arms and a high back with a scrolled top.
For comparison, here is a Chinese Chippendale bench, also English.
If you have an old-fashioned four-poster bed frame still in good condition, you can create a unique bench from the headboard and footboard, using all four posts, like this one.
Here is a simple wooden porch bench, with cushions.
Mama and Papa Joe, my maternal grandparents, owned a high-back settle cut from heavy oak, with straight legs and solid back. The seat could be opened for storing cushions in rainy weather. Painted a weathered grey, the bench's companion was an oak fern stand, also painted the same weathered grey. One of my fondest memories is sitting on their front steps outside the screen door, listening to Mama and Papa talk and cackle on that bench. (Yes, they cackled when they laughed.)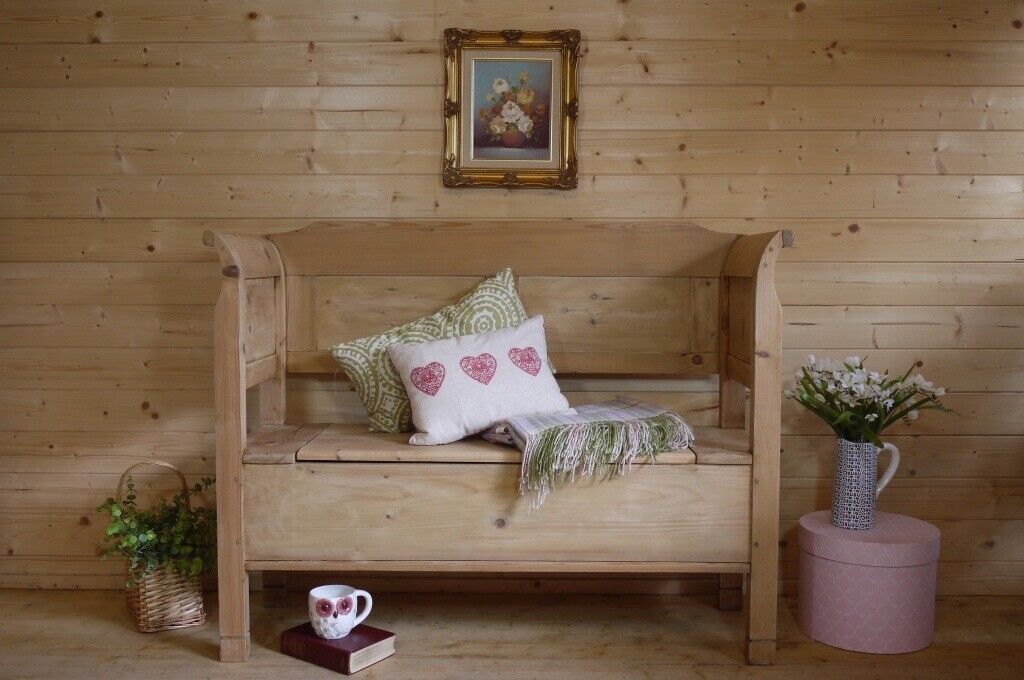 Porch benches today come in all shapes and sizes and styles, from wood to wrought iron, even wicker for an enclosed porch. The black bench shown in my lead picture is a modern Chippendale style in wood.
Do you like to while away a warm afternoon on a front porch bench, reading a book or just watching the traffic? Tell me about it. And, if you have a sunny day or two, now and then, absorb all the serotonin you can. You'll sleep better tonight.